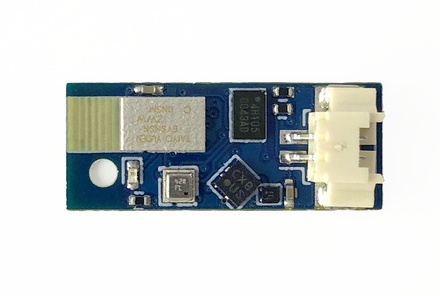 FlightSketch Comp
$59.00
Unavailable
Tweet
---
Product Description
FS Comp - The world's smallest Bluetooth altimeter!
Based on the popular FS Mini, the FS Comp is the same great technology in an even smaller package. With a footprint of less than 0.24 sq in and under 1g ready to fly, this altimeter is designed for competitors that want maximum performance from their models. The Comp uses the same processor and sensors from the Mini so data collection and processing is identical to it's bigger brother.
Data transfers wirelessly to your iOS or Android device with our free app. Flight stats are shown with real numbers! No flashing lights or beeps to count and decode, no extra data transfer kit to buy. With wireless communication, there is nothing to plug in and no need to open up the rocket & avionics bay. You can turn on your device and record and download all day. 
The FlightSketch Comp is also compatible with the online flight log service at flightsketch.com. A free account lets you upload flight data to the cloud, view interactive plots and easily share with friends. Browse your flight history with ease, The most useful data is what you actually look at!
The FlightSketch Comp even includes a 3 axis accelerometer on board! Now micro size doesn't mean giving up features. Get realtime feedback and visualize the thrust curve of various motors in your rocket. Additionally, the accelerometer data is now used to provide an even more accurate velocity measurements. Great for tuning sim files or bragging about a drag race!
Note** Battery not included, Requires 3-5V Power source. See below for compatible battery.
Features:
NAR Approved for contest use
Nordic Semiconductor nrf52811 with 32bit ARM processor and integrated Bluetooth Low Energy communication
Bosch BMP388 24bit digital pressure sensor
Bosch BMA253 16g (22g axial) 3D accelerometer
Kalman state filter for accurate altitude and velocity data
50Hz data logging of pressure, altitude, velocity & 3D acceleration
4Mbit onboard flash memory (~5minutes @50Hz)
External battery connector for 3-5v power source
Idle current as low as 450uA, ~12hr typical battery life with 9mAh LiPo battery (Not included - Available separately)
Mounting hole to attach 100lb kevlar shock cord or similar
Free & optional cloud data storage and sharing with flightsketch.com 
Designed & Built in the US
Dimensions:
0.315" (8.0mm) wide
0.775" (19.7mm) long
0.160" (4.1mm) tall
445mg altimeter alone
935mg ready to fly with 9mAh LiPo battery (Not included - Available separately)
Android Google Play Store Link
Customer Reviews
Make sure you have Cab in case you needed best place to buy cialis online HEMATOCIS KIT POWDER FOR INJECTION N A CIS BIO INTERNATIONAL FRANCE

Reviewed by Fousity on May 4, 2023, 6:13 p.m. | Permalink

0 of 1 customer found this useful
Recommended items