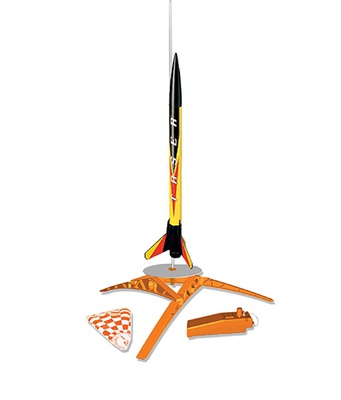 Estes Taser Launch Set E2X
$24.50
In stock (2 available)
Tweet
---
Product Description
Launch Set – 
(Formerly Easy to Assemble)
The Taser is another great kit from our E2X Series. Launched on standard engines, amazing heights of 1000 feet can be reached! Spend a little time building and a lot of time flying with this rocket!
The Taser is a stunning rocket that's capable of subduing anything out there that's dangerous! The Taser Launch Set from Estes is an exciting, radically designed high altitude rocket launch set from the E2X (Easy to Assemble) series. The rocket kit features a brightly colored one piece body tube, molded plastic fin set and bullet shaped nose cone. Simply glue a few rocket pieces together, apply the colorful self-stick decals and in less than an hour you'll be ready for the launch pad!
The Taser rocket is 17 inches tall. With its custom three-fin design, it climbs to an outta sight altitude of over 1,000 feet. A bright-colored 12 inch preassembled parachute returns this rocket back to the launch site. You'll be ready in minutes for another extreme launch experience!
Recommended items