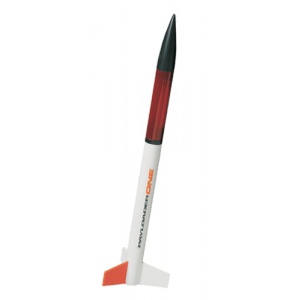 Quest Payloader One
$14.50
In stock (3 available)
Tweet
---
Product Description
The Quest Payloader ONE model rocket kit is one of three Quest model rockets to use TTW [Through-The-Wall] balsa fin attachment. There are three precise pre-cut slots in the body tube that allow for perfect placement and location of the fins. There is also a semi-transparent payload compartment and it has a parachute recovery system. The Payloader ONE model rocket mixes challenge and high performance.

The Quest Payloader ONE uses Quest A6-4, B6-4 and C6-5 rocket motors. It can also be flown with Estes A8-3, B6-4 and C6-5  rocket motors.

Perfect for schools, youth groups, Civil Air Patrol, 4H, and Scouting Space Exploration Merit Badge requirements.